Monuments View
Speedy Confirmation
Accessibiliy
All Inclusive Package
Live Guide
Pick up / Drop
---
Destination Covered:Delhi - Agra - Jaipur
Duration: 03 nights/04 days
Starting Point: Delhi
End Point: Delhi/Jaipur
Overview
Golden Triangle Tour is a classic introduction of India & it is one of the most preferred tours of Northern Part of India for those travelers who are visiting India for the very first time. This tour is created by adding 03 most famous tourist destinations of India, located in 03 different provinces of India i.e Delhi, Jaipur & Agra.

This tour summarizes the celebrated Indian history, culture, UNESCO World Heritage Sites, fairs, festivals and charismatic experiences of India. This tour provides you to experience the real taste of India with the peaks of the historic, magnificent & golden age of India. Trip To India Tour offers a wide range of Golden Triangle tours for a memorable trip to India.

Golden triangle tour can be done in 03, 04 & 05 days and you also have an opportunity to enlarge your tour to add on a wildlife experience in Ranthambore, or add on a sacred delight of Varanasi or a beach break in Goa and so much more. Kindly go through our listing of Golden Triangle Tour packages to explore Indian liveliness at its best!


What you expect

Enjoy Delhi, Agra and Jaipur in 03 days. New Delhi Sightseeing – – Jama Masjid, Humayun Tomb, India Gate, Bangla Sahib Sikh Temple and Presidents House.
Agra Sightseeing - Taj Mahal , Agra Fort & Fatehpur Sikri.
Jaipur Sightseeing – Amber Fort, Elephant Ride, City Palace, Jal Mahal, Hawa Mahal, Jantar Mantar, Birla Temple & Galta Ji or Monkey Temple.
Let the Professional Tour Guide explain the celebrated past of these cities.
Luxury AC Sedan/SUV car in your whole tour.
Exceptional Details
Tip to Tour Guide & Chauffeur.
Lunch and Dinner at restaurant or hotel.
Note: Please mention what type of hotel you preferred (5 Star / 3 Star / Budget category), before booking the tour. If you want to book accommodation on your own then please select "own accommodation" while booking the tour.

Note: This is only a suggested itinerary. We can customize it according to your flight arrival and departure schedule or as per your schedule.
Day 01
Arrival and Discover Delhi
- Drive to Agra
---
Places to visit: India Gate, Jama Masjid, Humayun Tomb, Bangla Sahib Sikh Temple & Presidential Buidlings.

Our Chauffeur will pick you up from Delhi hotel / airport. Later meet Professional Tour Guide at hotel. Proceed to monuments – Jama Masjid, Humayun Tomb, President House (outside view), Parliament house (outside view), India Gate and Bangla Sahib Sikh Temple.

After completing the tour of Delhi, head on to the city of love - Agra, which is the 2nd destination of your tour via Yamuna Expressway, 03 hours/200 kms drive. On your arrival in Agra, check into the Hotel and rest. Overnight stay in Agra.
Day 02
Explore Agra and
Drive to Jaipur
---
Places to see: Taj Mahal, Agra Fort and Fatehpur Sikri on the way to Jaipur. Meet Professional Tour Guide at hotel with Chauffeur. Proceed to the magnificent monument Taj Mahal, the maginificent white marble mausoleum was built by 5th Mughal Emperor Shah Jahan for his beloved wife Mumtaz Mahal in 17th century.

After visiting Taj Mahal, back to hotel for breakfast and later check out. After packing the luggage from hotel proceed to Agra Fort. It was built in 16th & 17th centuries, where you can see the grandeur of the beautiful palaces, which were once used by Emperors, Empresses, Concubines & other people.

Moving on to Jaipur, Enroute visit Fatehpur Sikri, which is also famous as The Ghost City or The Abandoned City of Mughal Emperor Akbar. It was built as a tribute to a Sufi Saint Sheik Salim Chisti. Later continue your drive to Jaipur, The Pink City of India. On your arrival In Jaipur, check into the hotel & rest of the time for leisure. Overnight stay in jaipur.
Day 03
Explore Jaipur and Drive to
Delhi - Departure
---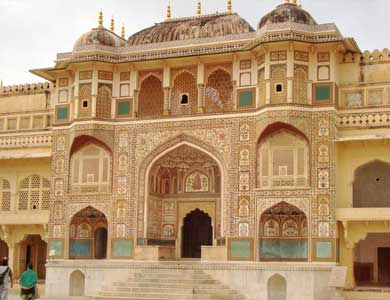 Places to see: Amber Fort, City Palace, Jantar Mantar also know as Observatory, Hawa Mahal (Palace of Winds) and Jal Mahal (Palace of Water), Galta Ji Temple or The Monkey Temple & Birla Temple.

Post breakfast depart for the Jaipur sightseeing tour. First you will visit Amber Fort, which was originally built in 16th century by Maharaja Man Singh, A Majestic fort built on a hillock. You will enter the fort riding painted elephant. Next you will proceed to Jal Mahal (Palace of Water), stop in front of it, take some pictures and then move towards Pink City Jaipur. Jaipur is world famous for real stone jewellery and handicrafts products.

Then visit Jantar Mantar (Observatory) situated in the heart of the city,which has the biggest sundial & nearby is the ornate Hawa Mahal (Palace of Winds), which was built for the ladies of Rajput's harem to see the royal procession on street without been seen by men.

We will also make a stop at AC Multi Cuisine restaurant so that you can enjoy your lunch in between the sightseeing. Then move to the City Palace and its museum, which exhibit an exceptional blend of Mughal and Hindu architecture, and house an extraordinary collection of paintings, Rajasthani armory and costumes. At the last in the evening visit the Birla Temple or Laxmi Narayan Temple which is an exquisitely beautiful temple, where we can participate in Aarti. After finishing the Pink City tour, return back to the pre – booked hotel. Overnight stay in Jaipur.
Day 04
Visit Monkey Temple &
then Drive back to Delhi
---
Post Breakfast & after packing the luggage, Our Chauffeur will take you to The Monkey Temple, which is situated on the outskirts of Jaipur, Surrounded with the Aravali ranges of mountains with so many monkeys.

Later Our Chauffeur will take you back to the Delhi and drop you at your pre – booked hotel in Delhi or at Airport of Delhi or Jaipur for your onward journey. Your tour comes to an end but its sweet memories and vivrant colors of India will remain everlastingly in your memories and heart.
---