Monuments View
Speedy Confirmation
Accessibiliy
All Inclusive Package
Live Guide
Pick up / Drop
---
Destination Covered:Delhi - Agra
Duration: Overnight 2 Days
Starting Point: Agra
End Point: Delhi
Overview
A Complete Tour of Agra!
This tour package is particularly created for foreign travellers, who want to discover Taj Mahal and other monuments of Agra city in 02 days without having any rush. It is the best way to admire the Taj Mahal with first light of day, which means less people and different morning glow unfolding the special moods of Taj Mahal. To relish this, one has to definitely stay for the night in Agra, reaching Agra a day prior and then be at the Taj at sunrise the next day. This tour package will give you a complete heritage tour of Agra including a deserted city "Fatehpur Sikri" which was once the capital of Mughal Empire in 16th century at the time of 3rd Mughal Emperor Akbar, which is around 45 Kms away from Agra.
Exceptional Details
Validity
Price per person in USD
Hotel Category
1
2
3
4
5
6
7
8
9
10
11
12
5 Star Hotel
340$
195$
195$
160$
160$
160$
160$
145$
145$
135$
135$
130$
3 Star Hotel
285$
170$
160$
130$
130$
130$
130$
120$
120$
110$
110$
105$
Without Accommodation
230$
140$
120$
100$
95$
100$
95$
90$
85$
80$
80$
75$
Pick up and Drop off Assistance.
Sightseeing by Private AC Sedan/SUV car.
Entrance Tickets of all Monuments.
Professional Tour Guide Service in your Language.
Mineral Water Bottles & Soft drinks.
Wipes.
Mineral Water Bottles.
All Applicable taxes.
Lunch at Air Conditioned Multi Cuisine Restaurant .
Breakfast and Dinner will be served in hotel.
Professional Tour Guide Service.
All taxes.
Tip to Tour Guide & Chauffeur.
Any kind of drinks served with breakfast.
Day 01
01
Pick-up from Airport, Hotel in Delhi NCR /
Gurugram and Drive to Agra.
---
Our Chauffeur will come to your desired location to pick you up & then drive to Agra via Yamuna Expressway. Sit back comfortably & admire the beautiful countryside & enjoy your 03 hours/200kms ride to Agra in a Sedan/SUV AC Private Car.
02
Arrival in Agra
---
On your arrival in Agra, Our representative will meet you in hotel and will help you in check in formalities. He will also introduce you with your Tour Guide & will brief you about the tour. After having lunch & some rest, your sightseeing of Agra will commence.

03
Agra Fort
---
Agra Fort is one of the most beautiful and well preserved forts of India. It was built in 16th & 17th centuries. The structure holds a brief history of not just the Emperor Shah Jahan but also his grandfather Emperor Akbar - The Great. In this fort you can witness the grandeur, pomp and opulent of the palaces in red sand stone and white marble. Shah Jahan had taken his last breath in this fort.
Visiting Time: 01:00 – 01:30 Hours
04
Explore
– Etimad Ud Daulah
---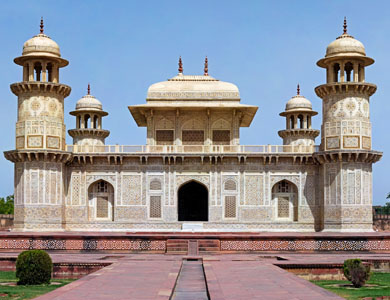 It is a beautiful mausoleum which was built in 17th century by Empress Nurjahan as a tribute to her father Mirza Ghyas Beg, who was the 'Pillar of the State' or the Chief Minister in Mughal Emperor Jahangir's court. It is believed to be the first mausoleum of Mughals, which is entirely built out of white marble. The exquisite tomb of Mizra Ghiyas Beg should not be missed. Visiting Time: 00:30 – 01:00 Hours
05
---
Visit to see the art of zardozi, heritage artwork use to done by Harem ladies at the time of Mughal emperor.


06
Enjoy the sunset view With Chai
---
Enjoy the sunset view of Taj Mahal with a mouthful of Indian Masala Chai.




07
---
After finishing the half day tour of Agra, The Chauffeur will drop you back to your pre booked hotel. Overnight Stay in Agra.
Day 2
01
Early Morning Pick up from hotel to
witness the Taj Mahal at dawn.
---
Set your alarm because this morning you have to wake up early to visit the Taj Mahal. The Tour Guide & Chauffeur will come to your hotel at a given time recommended by the Tour Guide. It is believed to be the most beautiful example of expressing love by 5th Mughal Emperor Shah Jahan for his beloved wife Mumtaz Mahal. Later come back to the hotel for breakfast and check-out process.

Visiting Time: 01:30 – 03:00 Hours Note: Taj Mahal remain closed for tourists every Friday.
02
---
Visit to meet the direct descendants of workers who built the Taj mahal.
03
Drive To Fatehpur Sikri,
45kms/01 hour
---
Our Chauffeur will drive you to Fatehpur Sikri, which is almost 45 kms/01 hour from Agra. Sit back comfortably & admire the beautiful countryside. It was built by 3rd Mughal Emperor Akbar in 16th century as a Capital City to commemorate his victory over Gujarat. It is also famous as an Abandoned or The Ghost City of Akbar. This is where Akbar helds his court surrounded by his nine gems or Navratnas & this is where the peerless musician Tansen & Birbal practiced his statement.

Visiting Time: 01:30 – 02:00 Hours
04
Drive Back to Delhi
---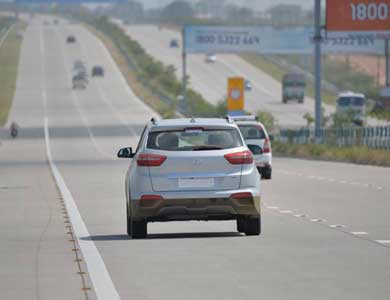 After having a good time in Agra for 02 days, witnessing the monument of love -The Taj Mahal at Dawn & dusk, seeing the grandeur of the palaces of Agra Fort & Fatehpur Sikri & tasting some delicious food of Agra, Our Chauffeur will drive you back towards Delhi by AC Sedan/SUV Car.
05
Departure at Airport / Drop to Hotel
---
After reaching Delhi, Chauffeur will drop you at your pre-booked Hotel or at Airport for your onwards journey or flight back to your sweet home.
---